"Mistakes and failures will always be part of my journey, and to be able to become successful, I knew I  just needed to learn from those errors and never be discouraged," Axl recalls the best advice he got during his journey as a Starbucks barista. 
Meet John "Axl" Petrurbos, a 3-year store partner, and a shift supervisor from Cebu Ayala Annex. Axl brings positive energy to the store every day, starting his day with his favorite iced coffee with sausage and bacon flatbread. He reminisces about those days when he wanted to apply in Starbucks, he was able to get the barista post, and was assigned in one of the busiest stores in Cebu– Starbucks Ayala Terraces or known as 161. 
It wasn't an easy path, he had to learn the ropes of being a barista for a short period of time, and being part of the busiest store when he was starting– "everything was fast paced, and I needed to adapt quickly to the knowledge and skills that are needed to become a good barista." 
"Working with the team to align your schedules, and valuing each other's rest day helps manage my work-life balance. Having this privilege and working for a company that values that, allows me to make time for my loved ones and hobbies," says Axl regarding work-life balance as a partner. 
As a paw parent, in his free time, he spends time with his five dogs and he loves playing basketball with his friends. He also makes sure to catch up with his anime and music– from rock and roll, RnB to pop music!
This or That with Axl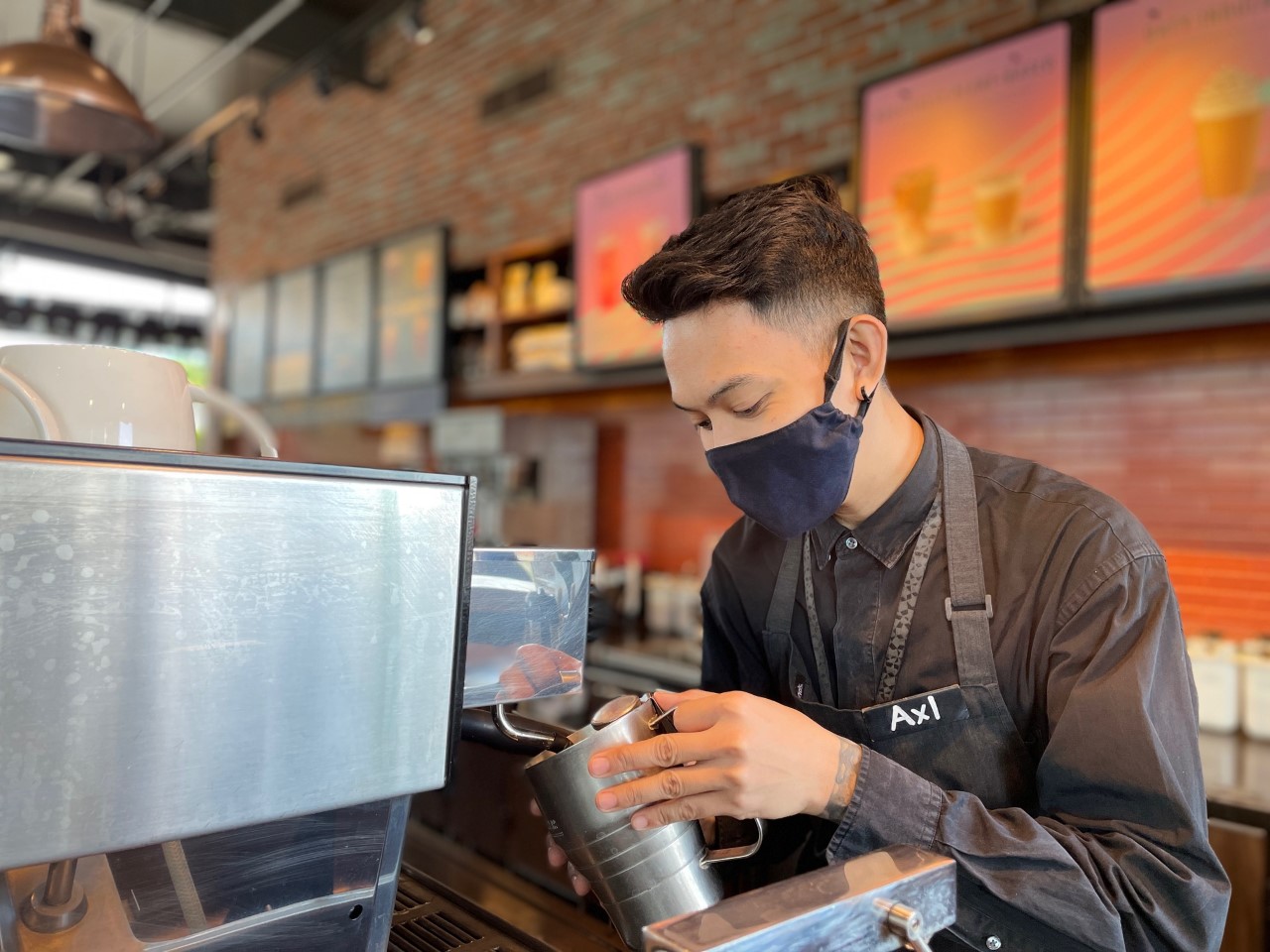 Tea or Coffee?


"Coffee. I always want to bring out my energy during my shift, so I usually get iced coffee twice a day."

Caramel or White Mocha?
"White Mocha. It's good with Iced Triple shot Espresso. The white mocha sauce enhances the intense aftertaste of the Espresso."


Double Shot or Triple Shot?


"It's Triple Shot for me. Whenever I get my first coffee before shift, I really want to feel the kick of caffeine in me so I always want to have a triple shot of Espresso." 


To start your day: Bagel or Flatbread?


"Flatbread for the win! Especially the Sausage and Bacon Flatbread, I really love how they combine the flavors of herbs and spices altogether with the meaty flavors of Sausage and the Bacon as well."
Starbucks Reserve: Affogato or Cold Brew Malt?
I really love the Cold Brew Malt; this drink makes me feel like a kid again, always asking for my mom to buy me a cup of ice cream.


Espresso or Frappuccino?
Both! I always get a Caramel Frappuccino or a White Mocha Frappuccino with Frappuccino Chips but with my coffee curiosity, I was thinking of trying the Espresso drinks. At first, the intensity of the Espresso is too strong for me– but when I got to try the White Mocha and the Caramel Macchiato, I realized that they are also good choices to start or end the day. 


Verona or Pike Place? 


I've always loved Caffe Verona. Every time we do a coffee tasting with Caffe Verona, I really like to listen to the story of this coffee and aside from that, I really love the sweet and the evident chocolatey flavor of this coffee accompanied by its roasty aroma.


We asked Axl what his message is to aspiring individuals who also want to be part of the Starbucks family, "To those who want to be part of the Starbucks family, keep trying and always give it your best shot." 


He said that things will never be easy, especially if you are still starting on your journey. There will always be a lot of challenges to face but reminds everyone to never back down from these challenges. 


"Always think that you can do it and always strive to be better knowing that you can be a master of your craft. Always outwork your own potential." 


If you want #ToBeAPartner like Axl, start your journey now. E-mail your CV at recruitment@rustancoffee.ph or drop by the nearest Starbucks store and ask our friendly baristas!